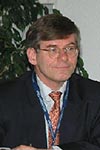 Stef Stienstra
Royal Dutch Armed Forces, Netherlands
Biography
Stef Stienstra works internationally for several medical and biotech companies as Scientific Advisory Board Member and is also an active Reserve-Officer of the
Royal Dutch Navy in his rank as Commander (OF4). For the Dutch Armed Forces, he is CBRNe Specialist with focus on (micro) biological and chemical threats
and Medical- And Environmental Functional Specialist within the 1st CMI (Civil Military Interaction) Battalion of the Dutch Armed Forces. For Expertise France, he
is now managing an EU CBRN CoE public health project in West Africa. In his civilian position, he is at this moment developing with MT-Derm in Berlin (Germany)
a novel interdermal vaccination technology as well as a new therapy for cutaneous leishmaniasis for which he has won a Canadian Grand Challenge grant. With
Hemanua in Dublin (Ireland), he has developed an innovative blood separation unit, which is also suitable to produce convalescent plasma for Ebola virus disease
therapy. He has finished both his studies in Medicine and in Biochemistry in the Netherlands with a Doctorate and has extensive practical experience in cell biology,
immuno-haematology, infectious diseases, biodefense and transfusion medicine.
Abstract
Abstract : Managing bio-threat information under the WHO international health regulations of biosecurity